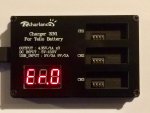 My recently purchased "Rcharlance Charger 3IN1 For
Tello
Battery" is showing error code "Er.0" New charger, used approx. 3 times successfully before this problem. Last charge attempt initiated normally, then a few minutes later showed error code. Have retried several times last 2 days, with & without batteries. Have also tried two different USB power sources. No joy.
Anyone know of a fix?
Have been reading this forum every day since receiving my
Tello
last Christmas. Have learned many tips.
Thank you to anyone that can help.