Hello all,
I just wanted to share here how disappointed I am with the RYZE customer service. Here is what happened...
In October I bought a
Tello
drone online and I started enjoying it for a few days. After that I had a small accident where the rails of the drone were a bit bent (see exhibit 1).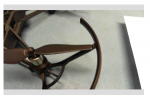 This was an accident but nothing really serious. I mean I was able to use it for another month following the accident without any problems (or warnings).
But two weeks ago, I updated the drone using the mobile app and afterwards my drone stopped working giving an error: 203. meaning my
Tello
has a non-ryze battery (The craft won't start up at all with this error). This was really weird as I have never used any other batter than the original battery...
Anyways, following this I contacted the customer service and they asked me to send the drone which I did and they told me the following:
"
Regarding on the damage assessment, the reason why the motors are not working anymore is because of the error code 203 that means your
Tello
has a non-ryze battery (The craft won't start up at all with this error). This can happen due to crashed/shocked experienced by your drone and might be due to a corrupt firmware update. The data on the core board is probably damaged. Also, since you have mentioned that your
Tello
encountered a crash, the impact of it might triggered after the firmware update since the said update also checks if your drone is in good condition.
"
First of all I really dont understand this. Why does the firm update checks if the motors are working also why it recognizes something as not working as it was not working.
So following this I asked them them to downgrade the software as it was working with the earlier version and this was the answer:
"...unfortunately the firmware of your drone does not have a way to be downgraded once you already updated it to its latest version. On behalf of Ryze, we do apologize for the inconvenience that this has caused you.
"
So here what I am asking. I should also give you the benefit of doubt as well. I do understand that RYZE can not check whether this error happened after the update or not. Maybe I am just lying with the whole software update and this is a way of me trying to get a free service. But I mean if this was the case, shouldnt I get a different type error? I really dont understand why the error states that I used a non-ryze battery.
I am curious about what you all think
Cheers
Turan