Joined

Apr 7, 2019
Messages

24
Reaction score

28
Location
While it is nothing new to daisy-chain wifi repeaters, with one on-board and one on the ground to achieve more than 200 m range, as demonstrated e.g. with the excellent build in
Xiaomi Repeater onBoard Tello mod
using the hobby's favorite MI WiFi repeaters, I have been a bit uneasy about trying this as I'm a bit short on time, and even while the MI repeaters are cheap requires a fair bit of modding to fit on the
Tello
.
Anyway, I got a D-Link DMG-112A USB wifi repeater bundled with a home broadband modem. It weighs in at 20 grams, and can be plugged onto an OTG cable to draw power from the
tello
, and held in place with a rubber band and a lego block!
The whole fitting took 2 min!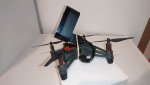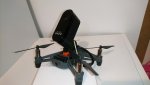 To daisy chain it with my existing MI wifi repeater was a bit fiddly to figure out, but I just needed to change the SSID after it was paired with the
Tello
, and manually set an IP on my phone's connection to an IP in the
Tello
subnet (192.168.10.5?). After that it was just to plug the two repeaters in and connect to the my local repeater.
It's been a windy day, and there is a storm brewing for the next few days, but I briefly stopped by a local park and almost flew out 200m in a very noisy (WIFI wise) area, had no wifi interruption messages and still had fine image feed.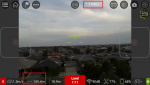 I ran out of park and did not dare to venture over the houses due to the wind, and was satisfied I more or less experienced the same improvement as the two daisy - chained MI wifi repeaters. Yeah, looking at the prices, these may cost a little more, but you only need on of these onboard, and can have a MI on the ground, and can be in the air so much quicker and easier. I'm tempted to lose some of the plastic shell to bring the weight down further though.
Any questions or comments, let me know!
Fly Safe - NoDecaf!
Last edited: