UPDATE 20-06-2018:
---------------------------------------------------------------
I received the bag but didn't have time to review it yet, sorry for that. I did find some great software called Butterflow. This allows you to motion interlace the video from 30fps to 60fps. It's easy to use. Just extract the zip file and boot the program through the command dos screen (cmd).
C:\Butterflow\butterflow -r 60 (moviefilename)
There are more commands available for the software, also slowmotion etc. I put the movie file in the directory of butterflow to keep it as easy as possible.
Screen will appear to be doing nothing after that but after several minutes an file called out.mp4 appears. It's a bit bigger filesize (because more frames per second) but the quality / jerkyness has improved by a lot *since it fills in the gaps also*.
dthpham/butterflow
Old video, now added butterflow processing, don't forget to switch to 60fps in YouTube!
I had great results with it so far.
-------------------------------------------------------------------
Hi,
New here but also wanted to post something usefull. So here's a video with the 2 different fly-modes compared and the fast mode with a stabilizer app:
And here is a bonus pic: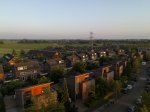 What i am using is a Xiaomi wifi repeater 2 | IPhone 6S - in airplane mode | For the video i have IOS App: DeShake (video stabilizer app) and Videograde (very good app for adjusting color, sharpness, shadow and highlights, etc.)
- I setup the airplane mode and wifi first before opening the
Tello
app
- I noticed that entering and leaving or switching in and out of the app causes additional skips in frames. So try to avoid that.
- Set the image quality and bitrate to high / 4 mbit.
- Make a standard config/profile in the VideoGrade app if you have it (+10 sharpness, +10 color sharpness, + 10 saturation, -10 shadow is what i'm using).
- Depending on the mode used use DeShake
- I found out that Splice (from GoPro) is a really nice and FREE app to create a fast and easy movie with some nice effects in it.
Besides that i still need to expirement a bit with the stabilizer app, it is nice to try and figure it out since you win a bit more camera angle/screen in fast mode while filming.)
I have this bag on the way, i'll let you guys know if it's good or not:

Kind regards,
MJ
Last edited: