Joined

Oct 14, 2018
Messages

1,009
Reaction score

383
It has been documented somewhere that most drone addic... err enthusiasts have more than one drone. I would like for you to post a photo of your fleet and a brief comment on why you chose those specific birds. I will start.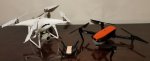 This is my squadron. From big to small they are called Ansia-1, Ansia-2 and Ansia-3. (This is literally how I call them)
The bomber (Phantom) is used mainly for work purposes. I work in a Engineering firm, so I survey and keep tracks of current and upcoming projects.
The Jet Fighter (EVO) was purchased as a backup drone in case Geofencing slapped me in the face, but after trying it out, it has become as my bird of choice for personal flights.
The Training biplane (
Tello
) Is used for practicing flying in ATTI mode and indoors. Arguably the best flying mode. If you haven't flown in ATTI mode, you are missing out. It is more fun flying in ATTI mode and it will help you improve on flying other drones. (highly recommended)
Notice: This thread is not for showing off. My intentions is for others to post their birds and ask questions or reply to other peoples questions about their specific craft.