Hi all, I was bored yesterday, so I decided to use an old Dbrand phone skin to make my
Tello
more stealthy
The end result is ok, I would give myself more material around the edges to work with, and most importantly would need to buy an exacto knife to be able to trim down the excess material more precisely, but for now it will do the job.
Flight time does not seem to be affected considering that I put maybe 2g of weight on top of it, but then again, this is just for fun who knows.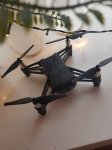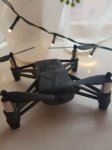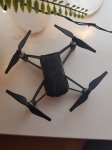 Secondly, I bought a wired ps4 controller and looked everywhere for a phone mount, none are compatible so I decided to make my own.
I took a plastic hanger, used a lighter to bend it to the correct shape and angle to fit my controller and I also took an old phone case I had laying around to use as a fixed way to hold the phone.
Roughened up the surfaces with a knife to give the glue a place to hold, and this is the end result, works for now. Until the glue fails and my phone ends up shattered on the ground but hell, had to create a solution since there were no compatible mounts to buy.