Joined

Jun 3, 2018
Messages

93
Reaction score

77
Hi all,
For what it's worth, here is what I use for a sun shade when flying my
tello
.
I have an iPhone 7 Plus and a while ago I bought a sunshade from Pgytech.
It was their usual offering with 3 shaded sides and 'rubber bands' to attach it to the phone. I am sure many of your are familiar with this solution. However I found in practise that a lot of glare was still getting to the screen so I made a simple mod.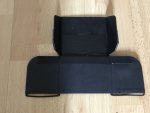 The bottom section in the standard pgytech shade.. the top bit I made from a piece of cardboard that I spray painted Matt black.
Note the wide Velcro strips added to the pgytech shade. Velcro is also on the sides of my addition.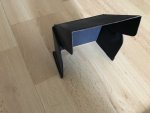 I attached my hood to the pgytech using black insulating tape which made for a nice flexible joint that allows the hood to be angled and affixed to the Velcro in any desired position.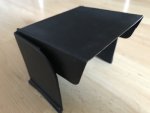 Here you can see the hood quite far down. Angle can be adjusted to suit the angle you hold the controller at. Also, even though it can be a little tight, there remains room to get your finger to the screen to make setting adjustments etc.
The solution does cut out a lot of glare and works quite well.
Anyway, just thought I'd share,
Happy flying,
J