Joined

Oct 10, 2020
Messages

2
Reaction score

0
Hey everyone,
Probably I broke some kind of record because I lost my first drone ever, in its first flight ever, in just 2 minutes
I'm heartbroken and feel very stupid. I started flying it and all of a sudden it started drifting. I tried to steer it a bit but then decided to make it land. It was night and I couldn't see where it actually landed. I searched endlessly to no avail.
I have been reading the forum all day long trying to make sense of the generated logs. I use the stock
Tello
app. I used csvview to to plot the path of my drone. Please see below: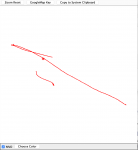 I have some specific questions:
1. Why is there a gap between the two lines? Aren't they supposed to be continuous? Did my drone skip time?
2. Is there any way to find out which line "end" is the starting point? I'm trying to visualize the timeline of the path but it's hard. I tried plotting flightTime and posX and posY but I'm not sure I understand what to do.
If anyone is interested I have attached the log!
Thanks for your help.