Joined

Jul 19, 2018
Messages

714
Reaction score

782
Location
Hi,
Most of us use a Xiaomi Repeater in ground for improving
Tello
performance, Have you ever wonder what would happen by using a couple of Xiaomi repeaters ?
First Xiaomi Repeater stays on the ground, close to smartphone, second Xiaomi Repeater its onBoard atached flying
Tello
. See diagram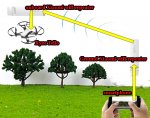 By the way, I'm not the first one into this mod. I read about it some time ago into
@Customerx
thread located here:
Another mi xiaomi mod. But not what you'd expect...
Thanks a lot for your inspiration to
@ph2t
and
@Stele
I decided to build and test this mod by myself. It's an easy and cheap work. Above all it is non-destructive modification, that means your
Tello
remains inaltered. You can mount/dismount mod over an stock
Tello
in only a couple of minutes.
Test results were astounding. An impressive improvement into video quality and range. Only drawback its increased weight and therefore decrease in flight time, but Let's go into the how-to and test section.
BUILDING TUTORIAL
First of all you will need to open first Xiaomi Repeater. A bit of brute force needed as no screws presented. Tools used were a knife and a screwdriver. At the end you will get internal pcb, usb wired connector and two plastic case halves (click over every image to view full-size)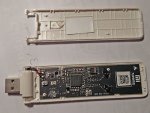 Buy an stock USB OTG cable. IMPORTANT ensure it's an OTG model not an stardard USB charging cable.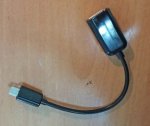 Cut USB OTG cable and stay microUSB piece, throwing away USB piece. Solder about 15 cm parallel cable into red/black power lines.

Replace existing Xiaomi power wires by soldering new cables into board pads. Polarity +/- is printed into pcb.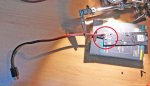 Test your work pluging in microUSB connector into
Tello
, switch
Tello
on and verify Xiaomi blue LED light is on.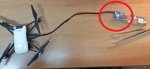 Use a piece of heat shrink tube for covering Xiaomi Repeater Board and cable weldings. Try to let a little hole for accesing Xiaomi reset button if needed.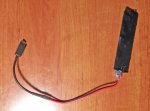 Remove
Tello
's white top cover. No tools needed, use your own nails.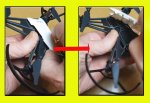 Use a couple of 20 centimeters cable ties for fixing Xiaomi Board on top
Tello
. As
Tello
's top is not totally flat put a little piece of foam for best adjustment. DON'T TIE TOO MUCH or you can warp
Tello
's frame. I recommend you working when battery pack inside.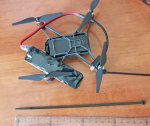 This is final result, a bit Frankestein style, but it works.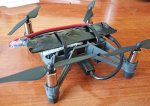 I have to split so long text, please see next post for test results...
Last edited: