Hello,
i have few questions and issues with the
tello
, and i will appreciate your help:
1. is the
tello
state data is valid always, or only during flight?
2. it seems that the state the
tello
sends always has acceleration in all the axes, even when the drone is on the floor.
i've tried IMU and central ground calibration - it did not help. any suggestions?
3. is the data received in
tello
state is reliable? ( i would like to use the data and would like to know how much should i rely on it)
4. will it be possible to control the
tello
with the low level driver, while using
tello
state and receiving video on port 11111 - all the same time? will the data from
tello
state will be valid in that scenario?
Thanks for the help.
tello
state data when
tello
is on the floor: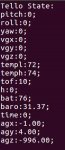 Last edited: