Hi! Greetings from the South of Spain!
Last year I couldn't get Santa to bring me a drone ... So this year I'm not going to be left in doubt and I just bought it.
Tello
arrived yesterday ...
I have always been an aviation enthusiast. I built and flew quite a few static and radio-controlled airplanes years ago... I made my dream real in 2000 by obtaining a PPL license... However, work, family and all those little, or big, things that occupy our daily lives made me stop flying anything since some 10 years ago,
However, drones have been calling my attention for a long time and, perhaps, they may be the way to regain contact with flight.
At the moment, I have to say that I am loving it!
Superb information inside the forum. I keep exploring it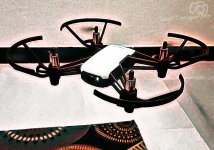 Last edited: