Joined

Apr 15, 2018
Messages

3
Reaction score

0
My wife brought me home a
Tello
a few days ago, after I had been looking at drones. It paired easily with my phone on the first attempt but I had less success in subsequent attempts. I was using an iPhone X. I found that force closing the app, entering settings, connecting wifi, and then launching the app worked flawlessly. I thought it was a little arduous that I had to do this each time I powered on the drone, as opposed to my phone recognizing and connecting to the wifi.
The drone hovered nicely and was control able using the on phone controls, but I found it somewhat clunky to control in that manner. I connected a Horipad Ultimate that I already owned to my phone via bluetooth and it worked perfectly for controlling the drone. The only draw back was that there is no way to mount your phone to the controller and it was cumbersome to manage them both. Range seemed to decrease if I would stick the phone in my shirt pocket. I used a 64' Nite Ize Gear Tie to fashion a phone mount and despite looking hideous it worked surprisingly well. (I'll attach the picture for your amusement.)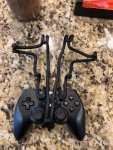 Pictures and videos were OK for a $100 drone. Much better than most toy camera drones, much worse than most photography drones. Think standard cellphone quality for images, a little worse for video. The videos and pictures saved to a file in the app and could easily transfer to your phone library. The bumpers on my Horipad worked to control video and the camera shutter, much like DJI's more expensive offerings.
The drone was stable and responsive. I was able to fly the drone up a stair case, through hallways, and into other rooms using FPV from my living room. Outdoors I removed the prop guards as there was opened space and I hoped to minimize weight and wind resistance. In sport mode it was quick. I was able to fly it above the tree line before needing to come back due to increased winds. I flew it approximately 75 meters away before encountering signal issues. I was in my neighborhood and am sure there was a large amount of interference from wifi and other electronics. Despite this, I was able to fly it back and felt 75 meters was plenty of distance for a drone of this size.
In my 24 hours with the drone I believe I managed 10 flights. I had a couple small crashes my first couple flights with no apparent damage. On my final flight I had the prop guards on and was indoors,. I was close to the drone using it to take videos of my children. I got too close to a wall and the prop wash sucked it up against the wall. It fell approximately 4 feet to the floor. A motor laid unattached on the floor beside the drone. The wire sheared off even with the rear casing of the motor. Re-soldering the connection was not an option due to it shearing flush with the housing. Even if that had not been the case it would have been very difficult to solder the wire due to the motor just pressing into the frame. I'm not sure if this was a fluke or an indication of low build quality.
I really liked the
Tello
while it was operational and found it fun and easy to fly. I doubt any other drone can compete with it's "fun factor" indoors. I had forgot to mention that it's '8-D flips' worked nicely (as long as you had over 50% battery). I replaced the my broken
Tello
with a Spark, but now find myself wanting another
Tello
for indoors on rainy days.
If you're looking into a
Tello
I hope my experiences can be of help to you. Happy flying.