HI, just wanted to show a cheap DIY LED lights I made for my
Tello
.
I used a LED lights that came with some lollipop package my kids got, it uses 3x LR44 button batteries and has a switch on top. I made a clip on a 3D printer so I could attach it to
Tello
, it clips on easy, but holds it rather firm - it takes two seconds to attach or detach it.
It ways just 6g and my flight with it drops about 1 minute (12:30 vs 13:30 on average)
I can easily spot my drone from a 100m with it. Front LED is constant blue, and rear one changes colors.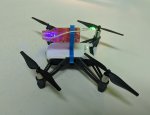 Here is it in action: