Joined

Jul 19, 2018
Messages

714
Reaction score

782
Location
Hi,
I'm very surprised nobody talking about
Tello
WIFI channel usage. I would like to share with you my own research and invite you to participate with your aportations.
As you know,
Tello
uses WIFI tecnology. It means on startup
Tello
configures itself as an Wireless Access Point, allowing our smartphone device to connect.
Problems come becouse many other electronics uses WIFI too. Surely you noticed
Tello
range / video improves in countryside. When flying into urban areas you will get poor performance as many nerby devices uses the same WIFI frequencies.
IEEE 802.11 WIFI protocol defines 14 WIFI channels using separated radio frequencies.
List of WLAN channels - Wikipedia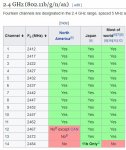 You could think using a free WIFI channel is enought for optimal comunication, but you where wrong, as there are a considerable overlap between adjacent WIFI channels and transmitters will interfere with each other.
WIFI channel selection for optimal comunication is a difficult matter, as you should study channels occupied by others nearby devices. Most of the times is a matter of trial and error.
I know other drones, like DJI Mavic or Spark allows pilot selecting WIFI channel used for flying. I can't find that settings on
Tello
. I'm afraid is not possible for us to selet a favorite channel
Using free Android app Wifi Analizer
https://play.google.com/store/apps/details?id=com.farproc.wifi.analyzer
I managed to know what channel
Tello
uses: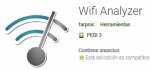 I was shocked discovering
Tello
's channel changes depending on my current location. After many test I realized
Tello
scans nearby WIFI signal during startup and choose the first free chanel he finds. See some samples, my
Tello
's WIFI is called TELLORAUL any other names you can read are neighbour routers. Notice each wifi shown as a wide hill, to indicate how it interferes with nearby channels.
Here
Tello
choosing wifi channel number one: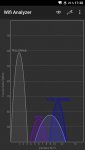 And here
Tello
choosing wifi channel number 2, becouse channel 1 is busy, occupied by nearby W_CASA wireless lan.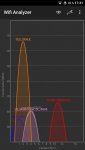 Unfortunately this is not an optimal behaviour. I'll explain you why
Sometimes
Tello
's choice is not the best one becouse although it is a free channel maybe is too close to other busy channels. In previous sample, channel 8 is a much better choice than channel 2.
Other times, a channel can be busy at takeoff point but you know is free in your remote flight area.
I think
Tello
WIFI channel selecion is an important matter to get a reliable flying experience. And we should try to investigate this matter.
Do you agree with me ?
Any ideas ?
Last edited: