Joined

Oct 31, 2020
Messages

1
Reaction score

2
Website
Hello TelloPilots Community,
we would like to draw your attention to our Kickstarter campaign and show you
ArduBee: A 100g high-end micro drone for research and development
ArduBee is a revolutionary lightweight modular micro drone concept that uses open source technology with incredible processing power in combination with extremely lightweight and highly customizable components.
ArduBee was developed by the team at
Luminousbees
, who has over 10 years' experience in the design, construction, piloting and implementation of drones. Specializing in arial media applications, the team started focusing their development increasingly on bright light drones, their control and positioning systems – their applications aimed primarily at the entertainment industries and collaborative research. Luminousbees also sells drone shows and has expanded with ArduBee, which is based on open source technology.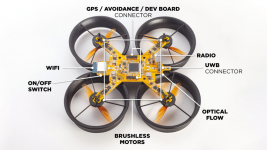 ArduBee overview
ArduBee's powerful H7 MCU flight controller and its 100g (no addons), 15 cm (5.9 inch) diagonal wingspan, Li-ion battery, ESC with real-time telemetry and dshot 1200 make it perfect for a wide range of applications ranging from education to industrial/business, research, swarming and much more.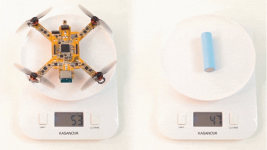 Ardubee has only 100 grams total weight!
The team at Luminousbees has developed a platform with the ultimate combination of (light)weight and power to allow a wide range of addon custom components to allow research and development of advanced drone applications. ArduBee offers an unmatched development platform that saves space and weight for your advanced application development!
Customizing is an integral part of the ArduBee concept. ArduPilot is an autopilot software suite that has evolved into a full-featured autopilot used in industry and research. The open source software (ArduPilot) can be programmed to meet your individual requirements and a very flexible addon system makes it possible to quickly and easily add a wide variety of existing components so you can realize your own application ideas without wasting time soldering your own drone together! With AuduBee you can realize a wide range of applications such as swarming, autonomous flying, AI and more, with features such as collision avoidance and computer visuals.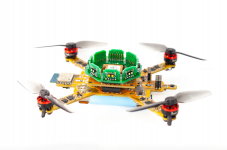 ArduBee with GPS + Avoidance addon
Luminousbees is offering a range of very attractive opportunities for you to support their Kickstarter project.
Let us hear your feedback and if ArduBee is convincing you, we would be very happy to get your support!
Your ArduBee Team
Kickstarter camapaign:
kickstarter.com/projects/luminousbees/ardubee
Website:
luminousbe.es/ardubee
//
ardubee.com
Last edited: