Joined

Apr 7, 2019
Messages

24
Reaction score

28
Location
So, I've been messing around with my
tello
edu for a few months, and found it fun, both the hand pilot part, as well as being able to program instructions against it. But, it does come with a couple of limitations, which are reasonable for the price:
- Can only stay within wifi range (which can be alleviated a bit with a wifi extender)
- no internal storage
- no GPS.
I probably could get a spark, but I do like the size of the
tello
, that makes it fit under the 100 grams rule here in Australia, as well as it is very quiet and don't bother people as much as a larger drone does.
So, more as a hobby project, I was thinking,
what if I just strapped a computer to the tello?
It could fly with it and control it autonomously and act as storage? No wifi interference, etc.
I've gone and ordered an Onion Omega2 Plus computer: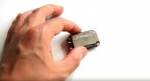 The computer part itself is only 16 grams, runs Linux, and I picked this one over other similar devices (arduino) , aside from the size and weight it has inbuilt WIFI, and should be able to be powered by an USB OTG cable from the
tello
itself and talk fairly lossless to the
tello
. In addition it can be expanded with a small GPS unit.
The best part? this cost just like $20!
Has anyone attempted something similar?
Fly safe - nodecaf