Joined

Aug 25, 2018
Messages

8
Reaction score

0
First, let's just get it out there that I am not a seasoned drone pilot. But then, that's why I bought the
Tello
, as an entry-level choice.
Anyway, as stated in the subject, I took my new toy out for its second flight today, and clipped a few leaves on a tree while taking it up. It fell maybe four metres to packed earth, and when I retrieved it I found that the rotor motor had broken off at the base (see pic below). All of which prompt me to consult my betters (that's you) to ask the following questions.
1. Is it right that this should happen so easily, or have I been sold a unit with a manufacturing defect?
2. If I have to replace this with my own fair hands, and at my own expense, should I upgrade to a better quality (brushless?) motor? And would those be more robust?
Many thanks for any answers, insults or discussions of my ancestry.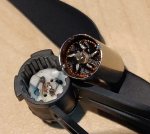 Note that the motor is not attached, it's just leaning next to the mount point.