Where can I reliably order a GameSir T1d controller for IOS?
I've searched the
T1d
threads unsuccessfully for an answer. I'm also aware of it's video & other limitations. I'm a "line of sight" flyer, so that's OK.
I've made two failed attempts at ordering this controller on Amazon.
The first one was listed as a
T1d
compatible for IOS, Android, Windows, & PS3. It was received promptly, but the box was clearly labeled
GameSir
T1,
"ANDROID & WINDOWS & PS3". I returned it unopened.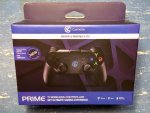 The second one was listed as "Fulfilled by Amazon", but after ordering, showed it was to be shipped from China, but never did, and after 6 weeks Amazon finally cancelled the order.

I've also looked at the DJI website, but they want full retail plus a ridiculous $15 shipping fee.

Please supply a web link to a reliable source.
Thank you for any references.