This should appeal to the geeks amongst us.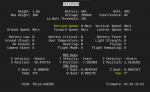 This replaces my (too difficult to install)
tello
-desktop apps for GNU/Linux, probably Mac, and possibly Windows.
It has far fewer dependencies - you could call it 'pure go' I suppose - so should be much easier to get running.
You can find instructions and the code at
SMerrony/telloterm
There is a video feed available, flight control from the keyboard, and optional joystick support.
Last edited: