Hello. I thought I'd share my take on adding navigation lights to
Tello
. I love to fly (LOS) at night, and with proper lighting, I can actually fly farther out than I can during the day. This lighting mod provides functional illumination, indicating nose and tail of the aircraft in dark, and low light environments. The lighting is highly visible from all orientations, including from above, and below. Power is supplied by
Tello
's on board USB port, through a hacked up OTG cable. A simple sliding switch makes it possible to power the lights with a dedicated, second battery. I have some 150mah batts laying around, and they work great, if not a bit overkill. I was not able to drain a single 150mah over many (lost count,) flights, before I switched to USB power. Flight times seem minimally affected when running lights with USB power. The whole lighting rig (minus power cable,) is a single, modular unit, making it very easy install or remove as desired. Light module weighs 4.42 grams, and the power cable weighs 3.95 grams.
I've purchased an angled, OTG ribbon cable with which I hope to shave a gram or two
I ordered some Micro OTG adapters (linked by umanbean down below,) with which I
hope to shave a gram or three,
shaved exactly 2.16 grams. New power cable weighs a mere 1.4g. Always good to shave weight, though
Tello
handles the it impressively, as I hardly notice the extra grams when flying.
Initially, I was building the circuit under the shell, but on my first iteration, I liked the look of the circuit next to my customized clear shell, and so I built it on the outside. It has been treated with modified silicone conformal coating.
Resistor values were calculated for the 5V over OTG, but the lights are still perfectly bright on lesser voltage from a 1S battery. Areas of the circuit that are embellished/redundant were done for artistic effect. Fiber optic, "side glow," cord can be found on Amazon in various diameters, and is linked in a reply below.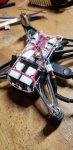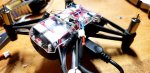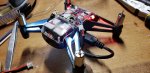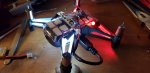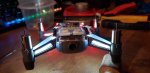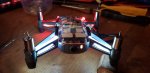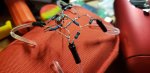 Edit>>> As was requested, here is video I just made of a night flight, in my front yard, showcasing the lights.
Last edited: