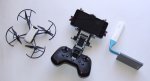 Phone: TP-link Neffos C5A (Android 7.0 1Gb RAM) (67 euro
).
Remote: Parrot Flypad
Wifi extender:
USB sem fio wi-fi adaptador amplificador de sinal do repetidor - branco + azul
Apps:
Tello
, Atello and Atellopilot
DIY LEGO Technic mounting
About the phone: TP-link is well known for wifi products so i choose a TP-link phone because of that. At TPlink mobile phone site you can read about antenna debugging special features.
About the Flypad: Came with a Parrot drone and is very responsive and ergonomic. Supports OTG and BT.
About the Wifi extender: Very easy setup with the phone browser, no app needed. Can´t tell maximum range but for me is more than enough...
Tello
is very small and light.
About the Apps: I choose Atellopilot, no doubt. Is smoother, lighter and with more functionality, same i don't use. Video quality is better in low end phones like mine. I use
Tello
official app for update and calibrate
Tello
. Atello 0.9 works in Android 4 (!) and old phones
Can record 4:3 videos.
About DIY LEGO Technic mounting: It puts the screen closer to my eyes and the phone a bit away from the remote and the bluetooth.
Overall:
I think i don´t need the extender. I have reached 180 mts and lose my
Tello
into the trees.To fly in a very, very open field only
Lucky i was recording video and manage to find it a day after.
I use BT between the phone and the remote so if the phone is too close to the repeater some interference may occur. With Atellopilot and Flypad (bluetooth) and no repeater, i have no interference and almost no perceptible lag. I can fly without the repeater and get good video, around 60 mts (3mb/s bitrate) away from the phone and that is enough for me because in my town there is always some wind and
Tello
is small and light. I can reach 80 mts in the woods without the repeater but some video problems.
BTW,
Tello
is great with the wind, even at 30 mts high. Average flight time with protections and wind: 10 min, not 13
.
Nuno.
Last edited: