The worst thing about this great little drone is video transfer quality.
So, tiny DVRs are easy to find and fit in/on the
TELLO
(see images below),
and they fit with form, weight, and power: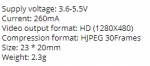 Question is - can we tap into/intercept the
stabilized
video output?
I'm guessing it will have to be done by tapping into the circuit board somewhere as we need to get the signal after the image processor and before the TX.
Does anyone have any insights on this?
(Any electronics in the crowd?)