Joined

Jan 12, 2020
Messages

28
Reaction score

87
Long story short after hitting a big rock my drone ended in the very shallow water at the beach.
He floated! (it was like 15cm deep but I was impressed that he has this ability). Then we started the rescue mission. But right before we get to the drone it stated his engines and tried to fly.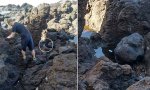 Turning it off helps. I soaked it at spot and wanted one more shot so I just turn on for a open to check whats the status. It's not good - Tello starts and immediately runs 2 motors in different speeds. I turned it off and removed the battery. I put it on the sun and it dried out for the rest of the day.
Now I see that the chips looks promising (at last capacitors) but everything i coated in salt. Here is a few close shots.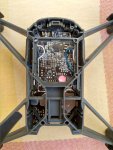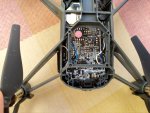 I'm an IT guy and don't have tchat much experience with electronics. Can you help me with cleaning the board? I will go to the shop for a small screwdriver to remove all Tello shell and get to the bottom of the board also. I just need to know what else should I get. Some detergent/alcohol probably but exactly what?