Joined

Jan 21, 2019
Messages

369
Reaction score

146
Hi All,
First of all I would like to express my frustration over the amount of misinformation and misunderstanding on here, among the
tello
user base. Generally speaking people tend to not have a lot of technological understanding of the drone and actual helps here a few and far between. I see a lot of anecdotal comments here which is simply untrue. Actually for this reason, I decided to join the forum and share some experience I have had with it in hope that it will make everyone's flying more enjoyable. Everything I say is based on the 1.04.78.01 firmware.
The biggest concern for the drone imo is wind resistance. Loads of people say
Tello
is just unfit to fly outside. Very wrong. It has a claimed airspeed of 8m/s or about 28.8km/h. It means it can hover steadily til 8m/s wind speed. That is a fair bit of wind really and I hardly get wind like that where I live. But there is a catch.
Tello
has body angle limit (at least for the 1.04.78.01 firmware) which gets smaller as you approach the ground. So Ryze kinda put a speed limit on your
tello
when you are close to a surface underneath. I am suspecting they don't want a 87g drone to smash into someone at 8m/s LOL. But it makes low alt flight very bad. You will get blown away by the lightest breeze if you attempt to take off or land very close to the ground. On windy days, I suggest hand launch and toss it up a bit higher or take off and immediately throttle up to leave the damned speed limit zone! Also do hand landing when it is not speed limited. Turning on fast mode makes it more wind resistant, (that is how 8m/s airspeed can be achieved).
The video is not stabilized in fast mode.
Tello
will tilt to fight wind so you cannot get any leveled frames (when you are in crosswind) so that is a bummer.
I use
t1d
controller via BT connection to iphoneX. I have not done a test on interference but since so many people complain about it. I assume it is true? I did run a small test at home by comparing frame drop for 360 mode videos in my room while trying difference wireless modes. I had to say the biggest difference was between turning cellular on and off. Not really BT connection... One thing for sure is that the Xiaomi Repeater 2 really did help with video feed quality and range! I was able to get 110m+ consistently in urban setting with heavy wifi pollution.
VPS failure or strong wind will trigger autoland and stop recording. You can fight autoland by throttling up but you must cancel it manually by tapping the screen or it will keep descending after you letting the throttle go. VPS works decently at 30m. It does drift a lot more than at 6 meters but it is decent on a calm day, I would still recommend keeping an eye on it!
Sudden failure happened to me once so far. It just dropped out of the sky at 40cm height, over grass. Full battery and hovering steadily. My friend's guess is battery got loose. I have no idea tbh.
A bunch of random things to say in the end. The props could fly off during a collision, the battery could also fall out. You get extra flight time when in slow mode and without prop guards. Some colored 3rd party props are total trash, they are made too thin and give you erratic flight, inability to hover. Also I want to rant about the lack of good flight control app on iOS platform, the official app is so under developed!
Happy flying! I look forward to exchanging ideas about
tello
and make this wonderful mini drone even better! It has so much potential like otg contoller support, better camera (manually tiling camera?), micro sd slot and even gps! I would hate to see Ryze refusing to improve it because it might bite a chunk off of DJI's share (DJI owns Ryze).
Peace,
Guorium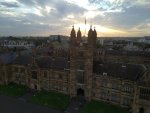 Last edited: