Joined

Aug 9, 2018
Messages

22
Reaction score

17
Hello everyone.
For last couple of days I've been discussing bad behavior of my
Tello
on various threads regarding uncontrolled disabling of the fast mode during flight (app showed the fast mode on all the time but sometimes did work, sometimes didn't).
I've been digging through this a little bit and assumed that the issue might be fly height-related.
First I was thinking about how did I started almost all flights in last few cases by throwing
Tello
in the air and remembered how the barometric sensor handles the initial height (from the starting point, not the actual height from the sea level). In case when hand-thrown, the
Tello
app was reporting 0 height in about 2-3 ft above the ground and since i was flying mostly just 1 ft above this level, i thought - what if it disables the fast mode near 0 height for safety and stability reasons (ground air flow effect known in most cases around RC models).
So I started my
Tello
from the ground instead. Height meter expectably showed the height value from the ground level and when I ascended to technically same level like in previous flights, the fast mode kept on and worked perfectly just like earlier.
So i wrote this thought to the Ryze and here is the answer: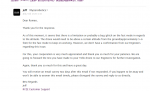 It's still unconfirmed cause Jeff apparently just repeats what i wrote.