Kudos to FlySafe CR over at Amazon for their refurbished
Tello
they sent me today. Not only is it spotless, it came in the original packaging and the initial power on went through the same steps as if it was brand new. Updated the firmware, renamed it so my Xiaomi repeater could find it and it flew perfectly. 5 stars from me. I'm a happy
Tello
Pilot again!
$79, came with extra props, battery, manual.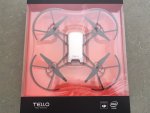 It was becoming a ritual from my back yard on windless afternoons to fly above the trees to get some sunset shots. Yesterday I stayed up too long and I started getting messages that it was getting too dark to hold position so it was going to land. Having seen this before, I didn't panic because I've been able to get control of it on time. Not this time. I appeared to have control at first but then the screen froze and suddenly everything went black and my repeater and phone could no longer see the drone in the WiFi settings. My guess is it came down enough to hit a tree top. I walked through the woods several times without any luck. To make myself feel better I ordered a refurbished one on Amazon and also pulled the trigger on a Spark. I was going to get around to that some day anyway! I still wanted the
Tello
replaced though. Nearly all my filming has been done in areas where anything larger than a
Tello
would be disturbing others. In many cases, the
Tello
is the right tool.
Anyway, just wanted to mention this story as a warning to watch your daylight, especially when you're up 30 meters!
Joe
Last edited: