Hello, I have decided to share my results from experiment with 18650 cells so if you had similiar idea you know what not to do. I wanted to use 18650 cells for their bigger capacity (and potentialy longer flight) and because they are cheap so you can have tens of them with you. Yes, I know they are hevier, but triple capacity of original battery coud compensate it if motors were able to handle it. Initial idea was to remove original battery and use 18650 cell instead. I have made improvised holder to try it firs before I 3D print a proper holder. After putting all together and turning
Tello
on, I got error 203 (not original battery) so I already knew this was not a way to do it. For fun I have tried to put original battery back in to work with 18650 cell in parallel. To a certain point it worked fine,
tello
was able to handle the weight, capacity seemed fine (although it showed only 76% at full charge - maybe because 18650 has 3,7V and original battery 3,8V?) but motors were running hot after just a minute of flight, it was just too heavy. So I have got into dead end and this is not a way to do it.
In the future maybe I will try to disassemble original battery and use some parts from it so
Tello
will think 18650 is original battery. I will probably not be able to charge 18650 from
Tello
directly because of higher charging voltage but that is not a problem. Maybe motors still won't be able to handle little more weight but it will be interesting to see the results.
I attach some photos from this experiment. I have used blade covers because I tested it indoors and was not sure that
tello
won't crash with more weight on one side.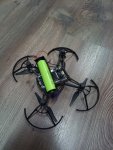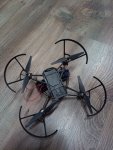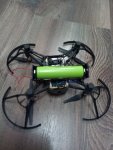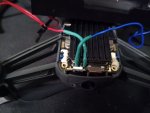 (Sorry for my English and maybe for syme typos too, I am not a native English speaker.)