Joined

Jun 3, 2018
Messages

93
Reaction score

77
OMG this is a bit of a scary story but with a remarkable and happy ending!!!
I have been down in beautiful Cornwall (St. Austell) for a few days staying at the Carlyon Bay hotel and spa which is situated right on the cliffs above the sea. It is a lovely resort and has its own golf course and so of course
Tello
was going to get a look see.
All was well for the first four days and I was zipping in and out of the trees having a whale of a time, not to mention racing up and down the links in fast mode (boy that is fun!!). Sadly our last day arrived and, as you do, I thought I'd have one last session with my three batteries.
I was using the range extender and my new Game vice controller and again all was good until the last battery. Fast mode beckoned once more and just as in days past I whizzed around the fairway going far, but not farther than I had already been.
I was flying quite high and with full throttle forward. Time to turn round and come back.
NOTHING !!!!! Eeeeeek !!!
I had no control whatsoever and the last thing I saw was the
Tello
HURTLING at full pelt towards the hotel gardens where guests were relaxing, sunning themselves or swimming in the pool. It was scary and so depressing all at the same time. I was completely helpless to do anything and had imaginings of it soaring over the cliffs and out to sea or worse. I walked back to the hotel some hundreds of yards away to find my partner and tell her the sad story. Not immediately seeing her, I went up to our room to put away all the gear (controller, extender, other batteries etc.) and then once more down into the hotel gardens.
I saw my partner resting on a sun lounger and so headed in her direction when right in front of me just about under a tall fir tree, on the ground, right side up was my errant
Tello
just missing one prop, literally not ten feet from where my other half was resting !!! I was dumb-founded. When I told her, she said 'Oh, I thought I heard something but was dozing and didn't really take much notice'.
I can only presume that the
Tello
flew across the hotel lawn and the residents, hit the tall fir and fell to earth without snagging the prop guards on a single branch. I feel so lucky !!!
Mind you this was my first ever runaway and it put the fear of God into me. I shall be more cautious about pushing the distance at which I fly from here on in. In honesty I thing it was probably a fluke caused by some WiFi interference but nonetheless it was a lucky escape. Total cost of the experience, one propeller.
I wasn't; recording when the flyaway happened but will try and post some of the video I shot over the holiday once I get round to editing it !! Here however are a few pictures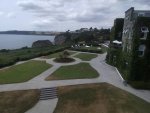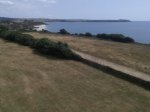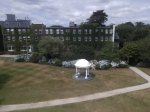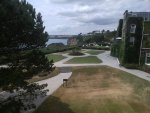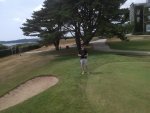 Happy flying to everyone
J