I'm a millenial. Why do Cenials hate us so?
Actually I was wrong with the millenial thing. I should have written "Gen Z ".
Hate millennials? nope. Why should I? I don't blame a specific generation for anything, except maybe the babyboomers and generations before that.They took the decisions that lead to the world that our children will live in.
The (late) millennials / Gen Z were just the first cohort that grew up with internet and smart mobile device everywhere. And the first to show the negative aspects like massive growth in distractions, being easily impressed / gullible, living for a fake impression of life (instagram food porn vs taste), and lack of concentr... hey look a squirrel!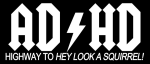 I met a few smart Millennials but the number of ADHD squirrel sort of types is just larger than in earlier generations. But if someone is a smart guy who cares about age.
I also don't make it into the cennial cohort either... I'm more gen x. On a more serious note: selling vaporware like Kickstarter does would not have worked for our generation. We just don't trust in vaporware. I'd love to see real world data, but I believe kickstarter is a massive fake in terms of success rate: how many backers were really happy with the results they receive...
Last edited: