Joined

Jul 19, 2018
Messages

714
Reaction score

773
Location
I read people using home-made wifi reflector for improving Internet WIFI coverage into their home routers:
You can use aluminum foil to strengthen your Wi-Fi signal
Trying to improve Tello's signal an range I built my own Windsurfer WIFI receiver using aluminium foil, glue and cardboard. I followed this web tutorial:
How to build your own Windsurfer Antenna
See results: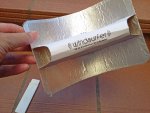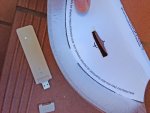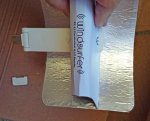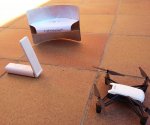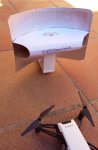 I tested my WIFI reflector attached into Xiaomi WIFI repeater. I was very excited but test
results have not been very good
.
I flew the same route twice, with and without WIFI reflector. Both fligths into an urban, crowdy WIFI environmentet.
I noticed an slightly improved signal strenght, a little better image quality and more signal bars, but range is quite similar.
In my first flight Tello was oriented forward. I could flew 140 meters away without reflector and 170 meters with reflector.
That's a 20% range improvement.
In my second flight attemp Tello was oriented backwards (towards me). I could flew 200 meters away without reflector and 210 meters with reflector.
That's a barely 5% range improvement.
EDITED: in other flights I have achieved improvements of
up to 33%
Take into account
you must flight right in front reflector
. WIFI coverage is worse on the sides and null in the back.
In conclusion, for me not always worth it worth using a wifi reflector, but why don't test by yourself ?
Last edited: