Hi all,
I use to visit that forum for a couple of weeks, and i realised i didn't introduce myself, sorry !
I am from france and the
Tello
is my first modelism experience ! I love that machine and feel addict now !
So addict that i bought a new one when the first one crashed in a tree (The TALS application is great but be carreful with the wind when very down !....). The
Tello
was looking at me when it was bloqued, i felt so stupid and so frustrated
, here is his last pic !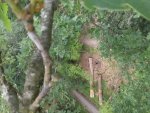 Thanks for all contributors of this forum, i found lots of interestings informations here !
Last edited: