Hello all!
You might recall the
fiber optic lighting mod
I submitted a few weeks ago. While I am currently experimenting with forward lighting for FPV, and downward lighting for VPS assist, I recently got inspired by these
new props
I picked up, and ended up with another navigation/orientation lighting mod. Years ago, I used bright orange props on the two front motors of my MQX, with plain black props on the rears, to assist me with aircraft orientation when flying at the limits of LOS range. In this mod the colored props offer that same benefit, but with UV reactive props, and UV LEDs illuminating them, the orientation assistance extends into low light, and night flying situations, not to mention it just looks really cool.
Parts I used:
- 2
Tello prop guards
(these will be permanantly modified, so you may want an extra set)
- 4 UV LEDs (I used
these 3mm, flat top LEDs
)
- UV reactive propellers found
here
,
or there's these, which are nearly identical to the stock props.
Those appear to be sold out now.
- and all the usual supplies and tools
The parts list should get most of you there, but if anybody requests a more detailed build guide, I will edit this post with more details. As it stands now I'm (almost) done talking, so lets get to the mod. Note, I've added this to the existing fiber optic lighting, so this can actually be done a little cleaner than you see in the photo of the aircraft belly. If fact, I think the belly could be free of wiring entirely, if only the prop mod was done. Enjoy-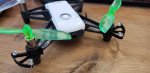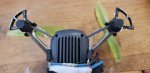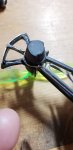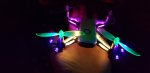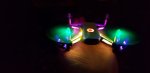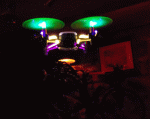 Last edited: