Joined

Jan 21, 2021
Messages

10
Reaction score

3
I'll hold the power button for 5 seconds. It will glow green for 5 seconds and then it will turn off, after which I'll let go of the power button and it will start pulsating red. Standard procedure.
Where problems begin is when I connect to
Tello
in this state, it's reading low battery (also has no video but maybe that's how it's supposed to be).
As it's reading low battery, it won't let me update it as it thinks it's under 50%.
I'll turn on
Tello
the normal way and it will read full battery(this was right after charging it, so it's correct).
I've explained this to Ryze Support and they told me to read steps again...
I'm doing it all properly, it even says Firmware 0.0 when I do the 5 second hold boot.
Does anyone know the solution for this?
I've used TelloFPV app to see the exact percentage of the battery when
Tello
is pulsating red.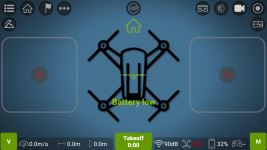 0% - obviously some kind of bug?
Just to clarify, I am using stock
Tello
app to update firmware, not TelloFPV.
The readings are the same in both apps.
Last edited: