Joined

Jul 19, 2018
Messages

714
Reaction score

782
Location
Beware extreme
Tello
pilots !
Yesterday I performed a range test and I almost lost my beloved
tello
. Here full story and some tips for brave pilots
I planned the test well. I waited for a no wind day and went to a clear, unobstacle, lonely and wifi interference free place. Everything seemed safe
I started range test along a straight unpaved trail. I got an amazing
350 meters range
with clear video when my problems started...
A lonely runner appeared in the distance next to my
Tello
. I guess he was carrying a cell phone with active wifi/bluetooth.
At this moment I totally lost video from my
Tello
. I got nervous. I had just made a turn and was not sure of
tello
orientation. Came into panic I pushed RTH (return to home) into aTelloPilot app and cross my fingers, but as you must know RTH is not 100% precise due Visual positioning inaccurate, he always drifts a few meters.
I was very lucky. I recovered video and control when
Tello
was 100 meters away. When I reviewed video I realized that on the way back he flew dangerously close between some trees. It was a miracle not end crashing !
I think it would have been more sensible to release controls, rely on the visual positioning system and run the 300 meters towards the
Tello
, not forgotting Xiami Wifi extender I was using, of course. Tips:
BEWARE OF MOBILE PHONE INTERFERENCES DURING RANGE TESTS
DONT ABUSE OF RTH AND BE PREPARED TO RUN !.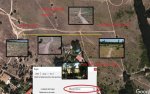 Last edited: