Hello,
First if all the following mod was not my idea. A user here in the forum did it first, but unfortunately never followed up with results. So I did it my self.
First I cut open the housing.
Fortunately you can disconnect the stock pcb-antennas simply by removing two solderbridges (shown in the red circles)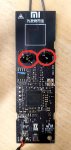 After that I soldered two 2.4 ghz Wi-Fi antennas from an old accesspoint to the convenient placed soldering pads on the back of the pcb.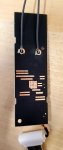 After that I've reassembled the housing and taped the antennas to it for now. Later on I'm planning to print a new enclosure which contains the repeater and a powerbank.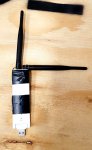 At the moment I'm only capable of doing indoor tests because of wind and rain.
But it looks promising, in areas where my reception before dropped to 70 dB now it stays at solid 90 dB.
As soon as possible I'll follow up with an outdoor test.
Regards Stele